Donald Rakgwale is from Tickyline Ga-sekororo village next to Karongwe Game Reserve. His journey to becoming a ranger has been quite an adventure, from saving a pangolin, to learning about photography and to earning a GCC scholarship place at the South African Wildlife College.
Matt Lindenberg: Let's start at the beginning, what inspired you to become a ranger?
Donald Rakgwale: My passion for wildlife started in 2015. I was in Johannesburg at the time and I loved watching videos about the rangers. When I came back to Limpopo Province, I decided to apply to ProTrack, and after a selection process, they accepted me and I joined them in 2015 and worked with them up until 2018.
ML: How did you hear about the GCC Future Rangers Scholarship Fund?
DR: I heard about it from my friends. They said: "If you are interested, you just need to send in your CV and maybe you will be selected."
ML: When you found out that you had been selected from over 600 candidates, how did you feel?
DR: I was really excited when I was selected. I was excited just to come here and do this selection because I had little experience of selection for projects.
ML: Tell me about your relationship with Mr. Mike? He told me a little bit about your relationship, but I would love to hear it from you.
DR: Mr. Mike found me in a group chat after I found a pangolin in my community. It was November 2017 and I found a pangolin when I was moving back home. I was coming back from a night out and I heard something strange. When I looked down I saw a pangolin. I wanted to protect this animal, so I was like, wow, what can I do with this thing? I was lucky because it is extremely rare to see a pangolin.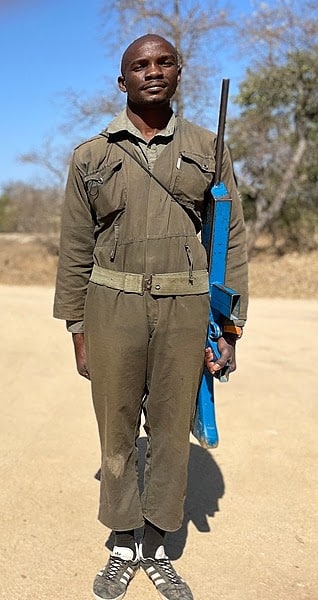 ML: What did you do with the pangolin?
DR: My phone was broken, and it was a Sunday, so on Monday I spent all day traveling to town to fix my phone. When I returned home I posted a message that I had found this animal in our community and asked if someone could come to my place and collect it. By the end of the day on Monday no one had responded, but I had to do something for this animal, so on Tuesday, I contacted the Hoedspruit Rehabilitation Center. They responded quickly and the lady from the center sent the Hemmersbach Rhino Force team to my community. She had given them my location and they came with both cameras and weapons to collect it. Mr. Mike saw my post and was interesting in meeting me and wanted to hear more about my pangolin experience. So, he asked if we could meet and I agreed to meet him at Hoedspruit. We became friends and one day he said "Donald, I want to come to your community and teach the young people about photography." So, I organized a small group and he took us to Karongwe game reserve to teach us about photography. It was so good, and he even gave me a camera.
ML: Mr. Mike was a huge advocate to have you join the selection process for the Future Rangers Scholarship Fund. What was the selection process like for you?
DR: It was a little hard, but if you know what you want in life, nothing is hard, nothing is difficult. You will do it, even if it is hard. You will push yourself to that level.
ML: What was the hardest part of the selection for you? Was it more the physical or mental aspects of the challenge?
DR: It was the physical side. On the final day, we had to carry heavy bags of sand and that was really difficult for me. It was the first time I had done anything like this.
ML: When you found out that you had passed the selection process and had a place on the course, how did you feel? What was that moment like?
DR: I was feeling happy, really happy. I am in. I am in. I am selected now. Wow!
ML: If you could send a message to the world about why rangers are so important, what would you say?
DR: I would encourage young people to love wildlife, even if it is difficult for them. Most importantly I would like to send a message to the people who live next to the game reserve, especially here in Limpopo Province. We had a group of youths who found a pangolin – after I found one – and they sold it. I would like to say, if you find a rare species like the pangolin, contact a game reserve near you so they can come and pick the animal up.
ML: I am sure a lot of kids look up to you. How do you inspire them?
DR: To inspire the kids, I watch wildlife channels and I teach them about the animals that I learn about, whether it is a little tree or a tiny animal. I just teach them about the things I have learned and they love to watch the wildlife channels too. Every time, they learn something new about wildlife. Some of them say "I want to be a ranger, too. I want to know more like you, Donald". I get a lot of questions when I am in the community. Some of them ask me about the dangers of being in the bush – what do you do if you are charged by a lion, for example? They are very curious about this. So I give them the answers, but I don't share too much because some of them come to me to get information about the big five for poaching.
ML: So, if you had a magic wand, or if you became the president of South Africa, what changes would you like to see in your community?
DR: I would love for the schools to teach the kids about wildlife so they can learn about endangered species. Some of the youth in my community pass their Matric (the South African National School Certificate) and then they don't know what to do after their exams. The only jobs they think about are for law or the police, positions in the public sector. They don't think of the private sector or conservation. There are a lot of posts in conservation that they can do, even to teach their community about the importance of conservation.
ML: This is exactly what we are trying to do at GCC to give the kids opportunities. From your experience, do you have any tips?
DR: I would go to high schools to encourage the youth. Tell them, if you pass your Matric, you can join us in this field, we can maybe find a scholarship for you because most of them look for bursaries. They don't know that in the bush there are also scholarships for them where they can study for free.
ML: What are you most proud of?
DR: The thing I am most proud of is saving that pangolin. I'm still proud of this because no one does what I did. I searched and searched to find a solution, and no one does this. It was not simple for me, but that animal came to the right hands, so I had to do something. I also called people in our community to come and see it as it is so rare. Some of the elders had never seen a pangolin before.
ML: Just to conclude, what is the Xitsonga word for pangolin?
DR: Pangolin in our language is Xikhwarha, it means an animal with hard skin and scales.
ML: Thank you so much for sharing your story with us, it was a pleasure to meet you and learn about your unique journey.

Want to stay informed about conservation issues and what
you can do to make an impact?