Big News at GCC
We would like to introduce you to Mindy Robinson. Mindy is joining our team bringing 8 years of development experience with her, along with a previous career in financial planning. Mindy has previously worked at Denver Rescue Mission and Denver Zoo and has a wild love for conservation and education, bringing her passion to GCC. She also holds her CFRE (Certified Fundraising Executive) certification and has already hit the ground running! Mindy will be personally connecting to our GCC supporters, donors and partners over the coming weeks, and she can't wait to meet you!
This transformational hire has been made possible through our partners and friends at the Morgridge Family Foundation (MFF). We're incredibly grateful and excited for this new chapter.
From the entire GCC family… welcome, Mindy!
Update on The Anton Mzimba Legacy Fund
We are happy to announce that we have passed the $31,000 mark on our way to our goal of $100,000. We have also received a $10k Donation Match commitment from from Anti-Poaching Activist and long-time friend of GCC and the Timbavati Rangers, Alexa Renehan, who dedicated this tribute to Anton:
"The world has lost a TRUE HERO with the passing of Anton Mzimba. He was an amazingly selfless, kind, and incredibly brave man who, in his very short time on earth, made it extraordinarily more beautiful by risking his life every day to save the rhinos. Spending time with Anton served to strengthen my resolve to work towards ending poaching and to continue his legacy through the creation of an education fund so that others can continue his fight to end animal poaching. Anton made the world a much better place, but he left us much, much too soon."
Anton's death at the hands of poachers has ignited international conversations about the threat that brave wildlife defenders are facing every day, the severity of the global poaching situation, and the immediate actions that must be taken to protect wildlife and rangers from organized crime. The Duke of Cambridge has been especially vocal about the need to support rangers, protect wildlife species, and for the international community to prioritize ending the illegal wildlife trade.
Read some of the recent coverage here:
GCC's John Jurko has been chronicling and sharing this news coverage on the RHINO MAN Facebook page and Twitter feed. Please continue to spread the word about The Anton Mzimba Education Trust to keep this discussion alive and ensure that Anton's mission of conservation education in the Greater Kruger Region and beyond continues for generations to come.
RHINOMAN Song / Film Updates
We're excited and honored to announce that our film RHINO MAN was awarded an Honorable Mention Laureat in the 2022 Jackson Wild Media Awards. They are the nature equivalent to the Oscars, and celebrate excellence and innovation in science and nature storytelling. There couldn't be a better way to begin the path to honoring our dear friend Anton Mzimba's story and legacy.
And, in honor of Anton Mzimba's passing, GCC and the RHINO MAN team have released the song that inspired it all: "RHINO MAN " written and performed by musician Paul Thomaz, represented by Underflow Records. The song is an anthem to rangers everywhere, especially the men and women who fight for the African rhinos. It will be featured in the GCC film about the rangers known by the same name, RHINO MAN. You can learn more and download the song here: song.rhinomanthemovie.org – give it a listen and raise your voices for Anton, the rangers, and all people committed to wildlife protection.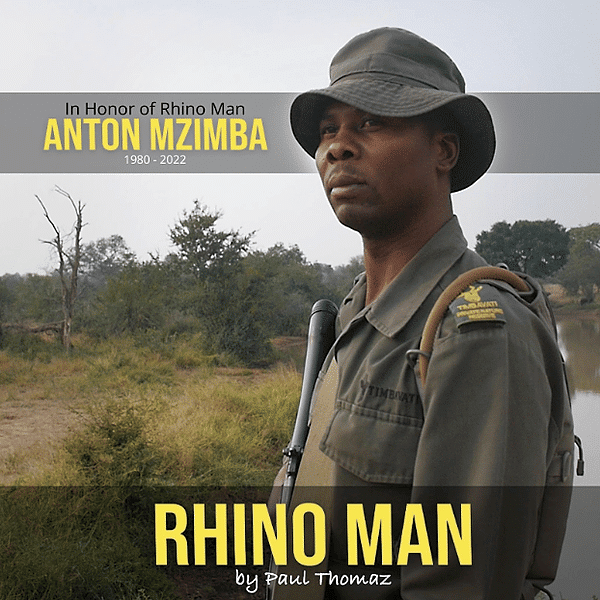 Also, RHINO MAN Director John Jurko was interviewed on the National Park After Dark podcast, where he spoke about the film, the life of Anton, and the recent devastating loss. You can find the podcast here:
Spotify: https://spoti.fi/3wmhZ9W
Apple: https://apple.co/3R4gNzJ
We have a lot of exciting events happening over the next few weeks in the build-up to our long awaited official release of the film. Make sure to check out http://rhinomanthemovie.com/ often to stay up to date!
GCC Celebrates World Water Week
Our planet holds just over 325 million trillion gallons of water. While this is a massive amount, only 3% of Earth's water is freshwater. The effects of climate change and the resulting increase in temperature have impacted the distribution of freshwater, making it an even scarcer resource that needs to be used sparingly.
GCC's Future Rangers schools are located in rural areas in the Kruger region. In these communities, water is collected in buckets at a borehole station on certain days of the week (and sometimes even at night). In addition to the limited supply, many of these communities are not educated in the safe and sustainable use of water, and so quite often the little amount of water they are able to acquire is wasted.
To celebrate World Water week, and to help improve water usage practices in our local communities, GCC facilitators Lefa and Promise took it upon themselves to educate our Future Rangers students at Salani primary school about practical ways to use water wisely, such as:
How to have a watering schedule to water gardens,
How to use less water when bathing,
How to avoid spillage when collecting water at the water station,
The importance of using a cup to drink water from the tap,
How to re-use greywater from households to water gardens, and
How to be conscious of the amount of water used during day-to-day activities.
The day ended with an experiment demonstrating how to reduce the turbidity of greywater to reduce its potential harmfulness to garden plants. The students then designed a water diary to document steps they are taking to reuse water in the school. By the end of the day, our learners were stocked with knowledge and new enthusiasm to share what they learned with their mates and families.
Celebrate World Water Week with us: What are some ways you can start using less water in your daily activities?

Want to stay informed about conservation issues and what
you can do to make an impact?