GCC turns 7 on the 31st May 2022
Exactly seven years ago, the Global Conservation Corps, Inc. was established. It was formed by 5 friends (and many supporters behind the scenes) who sought to create something unique, meaningful and impactful in the conservation space. Justin Walker, Brad Gill, Lee Anders, Tami McQueen & myself (pictured below) brought our backgrounds, skills, and shared passion to Atlanta in the summer of 2015 for our first meeting, where we dared to imagine the future of GCC. The unifying factor that bound us together was not only a drive to protect wildlife, but more importantly the desire to inspire people from around the world to be a part of that movement.
Looking back on our journey, it's been an incredibly beautiful and inspired ride. Throughout the years, we've had our ups and downs, our highs and lows, but through it all we've stuck together, believing in our mission with steady conviction. Our passionate donor community, board members, volunteers, and staff have all been a part of us reaching this monumental milestone. I wouldn't change a single thing about this journey, and cannot wait to see what the GCC world looks like in 7 years from now.
With sincere gratitude and appreciation to the entire GCC family who got us here,
Matt
GCC Events are Happening Near You! Denver, San Francisco and Atlanta
The GCC team is traveling around North America in the next several weeks to spread awareness about the work we are doing and to introduce our upcoming "Wildlife Guardians" Exclusive Travel offerings. We would love to see you at one of our upcoming events!
Denver: RiNo Week 2022
June 2-4th RiNo Art District Denver, CO
Thursday June 2nd: 7-10 pm at Ironton Distillery and Crafthouse. Come celebrate the opening night of Rhino Week and have a rhino themed cocktail! We will have virtual reality headsets and feature videos from GCC's work in South Africa.
Friday June 3rd: Rhino week with the Rockies. Join us at Coors Field at 6:40 pm to cheer on the Colorado Rockies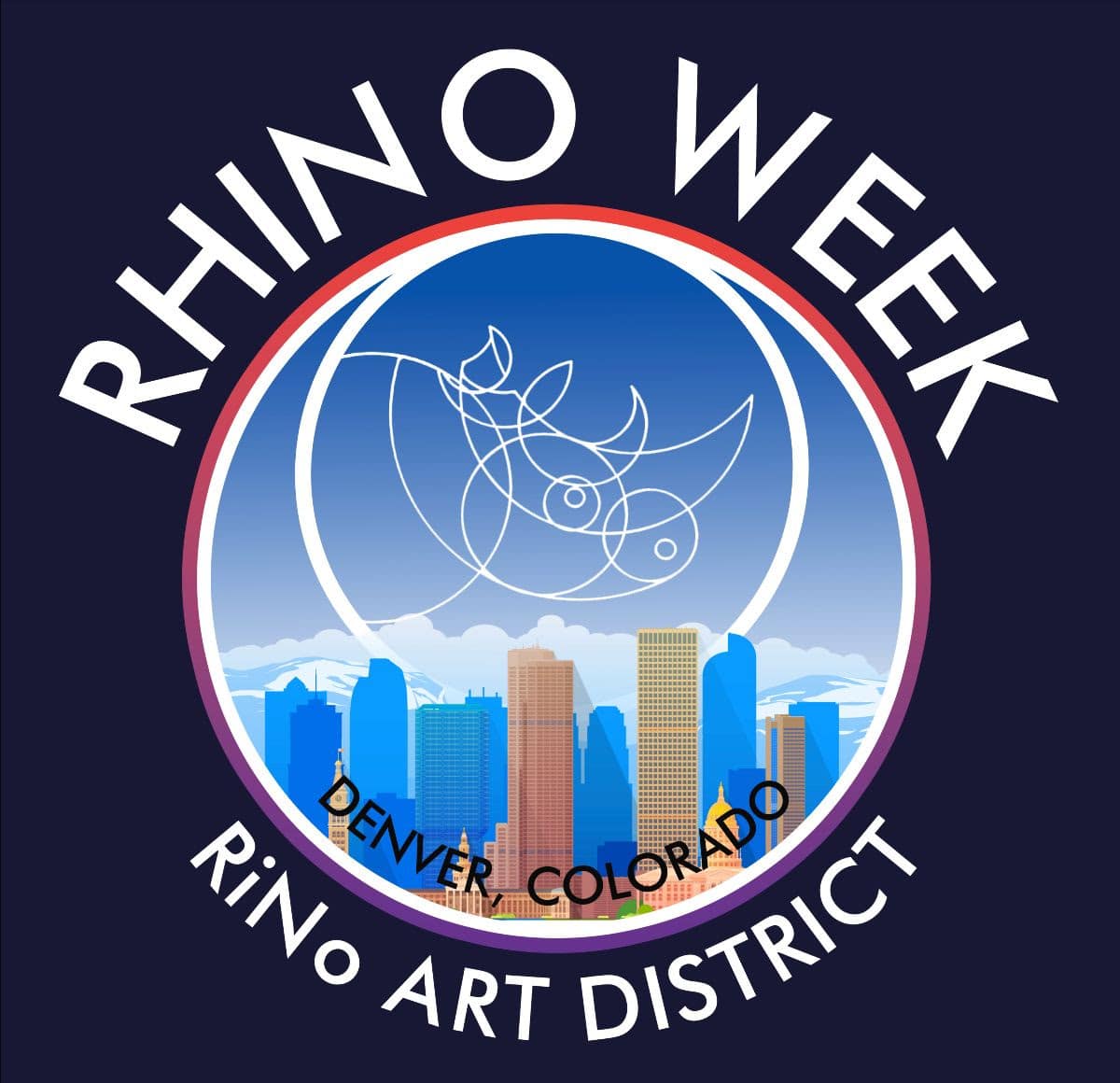 Saturday June 4th:
Keep the 5 Alive! Learn about all five species of rhino for a brunch at Lekker Coffee and Watering Hole from 11:30 am-1:30 pm.
From 1:00-5:00 pm join the crash in the Rhino Stampede Bar Crawl! Safari through RiNo Art District and enjoy a drink from each of our sponsoring breweries.
To finish off the day, Rhino Beer Garden will host a panel discussion from 4:00-6:00 pm. This is a chance to hear Matt Lindenberg (GCC), Dave Johnson (KACF), and Corey Lockman (WPS) talk about their work in conservation.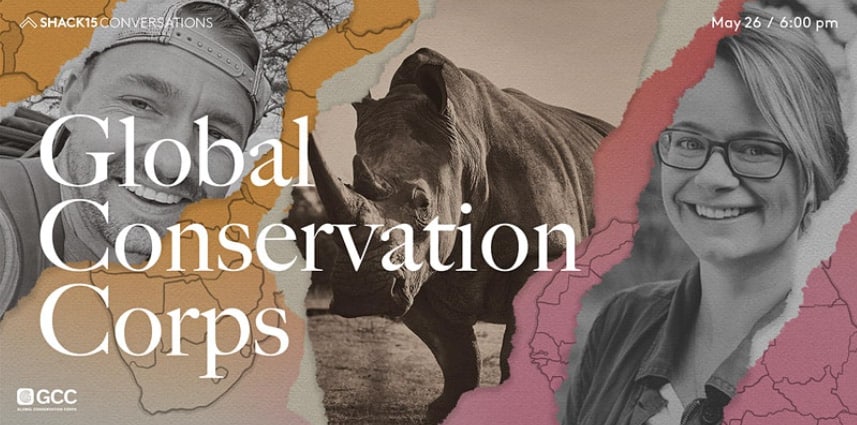 When: Tuesday, June 7, 2022, 6:00 PM – 7:00 PM PDT
Where: SHACK15, 1 Ferry Building, #Suite 201, San Francisco, CA 94111
Hosted by SHACK15, a community for Founders, Innovators, and Changemakers, Matt and Kate will be sharing African wildlife stories, conservation successes, and what the Global Conservation Corps is doing to support conservation guardians globally. We will also be unveiling our Wildlife Guardians Exclusive Travel initiative – an immersive and behind the scenes experience to meet the conservation heroes on the front lines of wildlife protection. This event will give us an amazing opportunity to expand awareness of GCC, our work, and our impact with west coast audiences.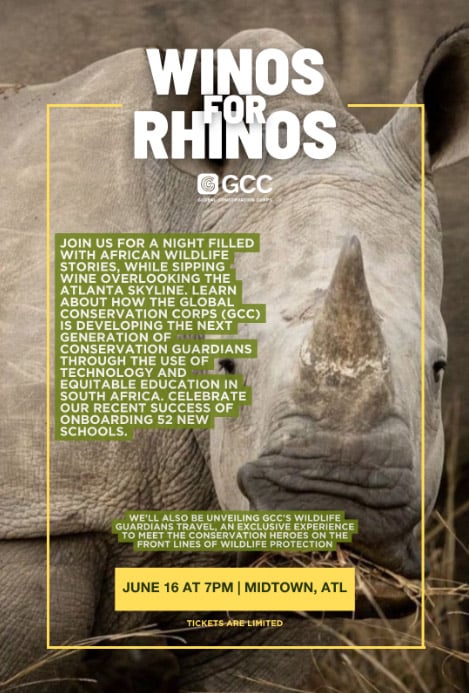 Atlanta: Winos for Rhinos 2022
When: Thursday, June 16, 2022
Where: Midtown House, 1163 W Peachtree St NE, Atlanta, GA 30309
Winos for Rhinos is back! Join us for wine, conservation stories and exciting announcements about the launch and expansion of the Future Rangers App, the official release of the RHINOMAN Movie, our Wildlife Guardians Exclusive Travel initiative, and more – all while taking in breathtaking views of the Atlanta skyline.
Please register if you can attend and, as always, please spread the word to family, friends or colleagues who share your passion for conserving global wildlife populations!
Environmental Awareness Day
Thousands of people live in communities in South Africa that neighbor the fences of protected and conservation areas. These communities face a number of environmental challenges such as deforestation, improper waste management, water scarcity and wildlife poaching to name a few.
GCC and Africa Foundation took a stand to bring environmental awareness to the community and hosted an Environmental Awareness and Careers in Conservation day at the community library of Hluvukani village. The event was aimed at bringing awareness to the community about the environmental impacts caused by some of the activities the community engage in daily and proposing solutions they could implement to mitigate those challenges. Another goal of the event was also to highlight the exciting career opportunities that exist in protected areas.
During the event, a number of presentations were made, using teaching aids made from recycled materials found in the local communities. Most attendees were astonished to see how many useful products could be made from the waste they were disposing everyday.
A representative from Conservation South Africa presented on their amazing cook stove project, which aims to combat deforestation by reducing the amount of wood required to burn a stove, which also incorporates new technologies.
Sergeant Gert Dibakwane, a field ranger trainer from the Southern African Wildlife College explained the importance of community members having buy-in to the wildlife economy, to ensure the protection of our natural heritage and what it takes to become a conservation ambassador.
"We are delighted by the number of people who attended the event and how they participated, assertively. We were able to see a noticeable shift in overall attitude in how people treat their environment," said Promise Mkhatshwa, GCC environmental education facilitator and coordinator of the event.
NEW EPISODES: The Rhino Man Podcast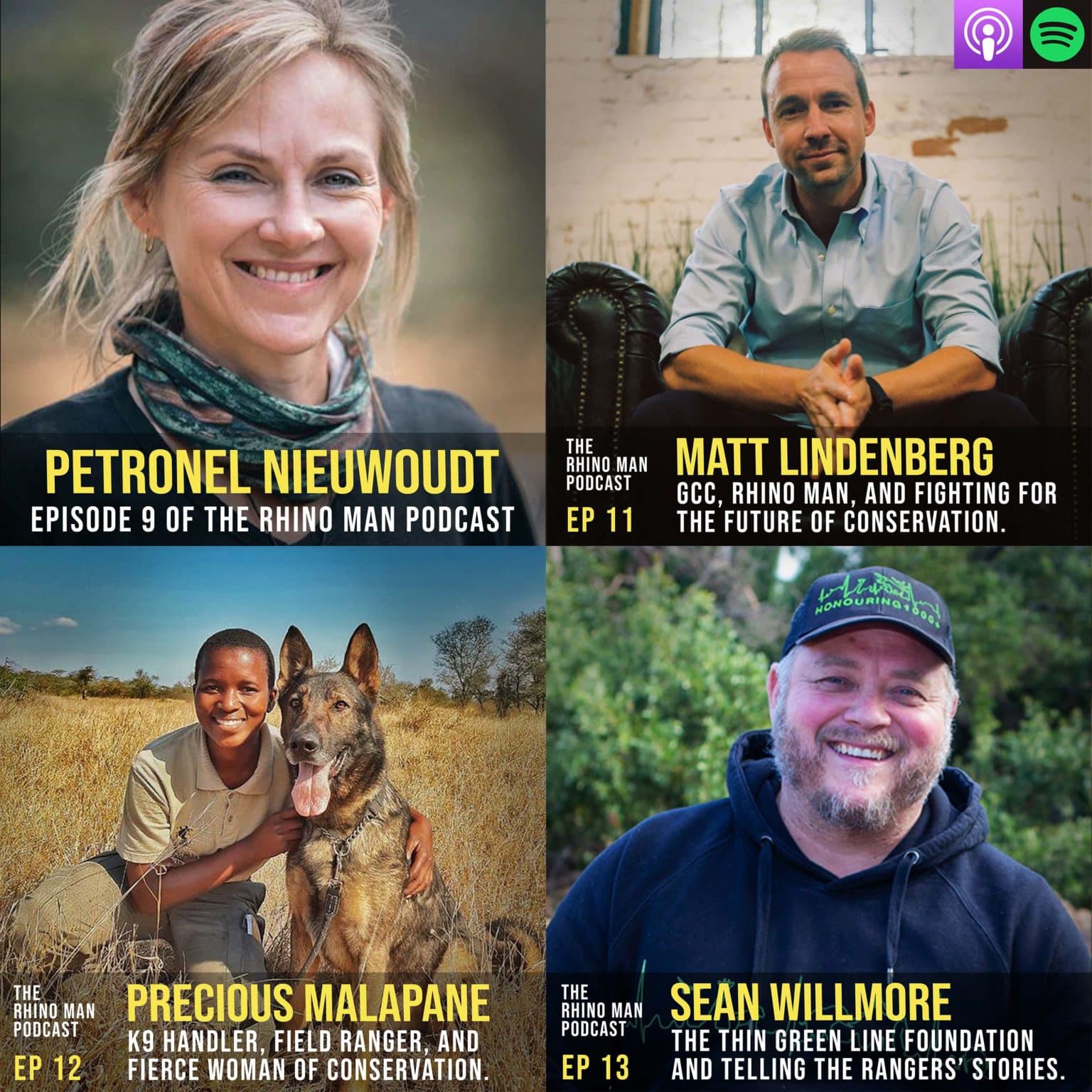 In the last two months, The Rhino Man Podcast has featured a wide array of leaders in rhino conservation and ranger support. Here are some of the highlights.
Episode 9: Petronel Nieuwoudt of Care for Wild rhino sanctuary tells beautiful stories of the many sacrifices people have made in working to save the rhino species, everything from dangerous helicopter flights, to rangers risking their lives, to the endless long hours the caretakers put into keeping these orphaned survivors alive.
Episode 11: Matt Lindenberg, Founder and Executive Director of GCC, dives into the inspiration for starting the Global Conservation Corps, how RHINO MAN the movie came about, the trials and tribulations we had while bringing the film to life, and some of the recent challenges since COVID-19 changed the world.
Episode 12: Precious Malapane, a K9 handler and field ranger, talks about how she first connected with wildlife, her love of dogs, what it was like as a woman in ranger selection and training, and her advice for women wanting to become a ranger.
Episode 13: Sean Willmore of the Thin Green Line Foundation dives deep into his decision to risk it all to follow a passion to make a film and start a nonprofit to tell the rangers' stories. We hear about the many challenges that rangers face in diverse settings around the world, and what The Thin Green Line Foundation is doing to address them.
Endless stories of heroes in conservation fighting for a better future. Make sure to subscribe, rate, share, and review The Rhino Man Podcast on Spotify and Apple Podcasts.
WAYS TO LISTEN:
Subscribe and Listen on Apple Podcasts
Subscribe and Listen on Spotify
Listen on our website here

Want to stay informed about conservation issues and what
you can do to make an impact?