United for Wildlife Summit in London
GCC is honored to announce that Matt Lindenberg and John Jurko have been invited to speak at the United for Wildlife (UfW) Summit in London, taking place on the 3rd and 4th October, 2022. The United for Wildlife Summit is hosted by Prince William. The Summit will bring together over 300 leaders from the Transportation and Financial sectors as well as law enforcement and conservation agencies to discuss mitigation strategies on the illegal wildlife trade, which is an estimated $20 billion industry. John will be presenting on the filming and directing of RHINO MAN the Movie, while Matt will focus on the Future Rangers Program, both inspired by Anton Mzimba. GCC will be co-presenting with our partners from the Southern African Wildlife College and The Thin Green Line Foundation. The Prince of Wales will attend and deliver a speech highlighting the serious nature of organized wildlife crime and the detrimental impact it has on our planet and its species. Stay tuned on our social channels for live updates from the London Zoo and Natural History Museum.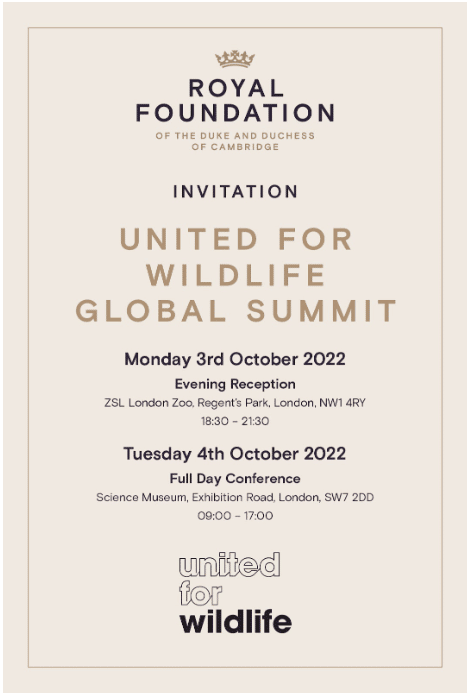 Dr. Jane Goodall Endorses RHINO MAN
We're humbled to announce that Dr. Jane Goodall and her team from the Jane Goodall Institute have watched a private screening of RHINO MAN, and have endorsed the film with a raving review. As we complete this 7 year labor of love, we continue to partner with celebrity ambassadors, wildlife icons and conservation organizations to elevate the profile and messaging of the film. This support from Dr. Goodall brings enhanced exposure to RHINO MAN, and increases our desired impact of telling the world the story of rangers and their critical role in conservation.
Anton Mzimba Update
It's now been nearly 2 months since the passing of our dear friend, mentor and leader, Anton. With immense support from our donor community, we've raised over $33,000 to date, to ensure his children receive access to quality education and hopeful futures. While in London next week, GCC will be meeting with conservation foundations to discuss contributions to the Anton Mzimba Education Trust (AMET) and how to reach our goal of $100,000.
The international exposure of Anton's life has been overwhelming.  Posts from Prince William, a blog post from Sir Richard Branson, and with articles from the New York Times and other international publications, along with a Care2 petition of over 72,000 signatures demanding justice for Anton's murder, just to name a few. The investigation is still ongoing, with concerns growing everyday on the amount of time it's taking to apprehend the suspects.
Additionally, GCC attended the African Ranger Congress in Kisane, Botswana in the middle of September, where African Rangers from over 25 countries attended the congress. John and Matt were able to present a private screening of RHINO MAN to the rangers, which was an extremely emotional experience. Many of the rangers in the room have lost friends on the front lines, and could relate to the loss of a dear colleague. With an average of 3 rangers being killed every week, the reality of the film served as a reminder of the reasons rangers put their lives on the line every day.
On the final night of the Congress, the African Conservation Awards were held. Anton Mzimba was posthumously awarded the Best Field Ranger Award. This distinction is both a great honor and a well-deserved one. As Anton's name was announced as the winner, the entire ranger delegation stood to attention, and gave an honorary one minute of silence to remember fallen rangers. We are honored and grateful to have been able to accept the award on his behalf, and will present this prestigious award to Anton's team and family in the coming weeks.
Africa Foundation brings 20 schools online using GCC Education APP
During the last 4 days, the GCC team in South Africa have been working tirelessly to onboard 50 new Facilitators from the Africa Foundation. The facilitators will be using GCC's Future Rangers App to track and monitor the impact they are having in their programs, along with having access to a wide variety of curriculum. These 50 facilitators will be deployed in 20 schools along the Kruger National Park border and tasked with delivering high quality environmental education to school children. This is the first phase of a much larger rollout, which aims to see another 100 schools using our App from January 2023 onwards. This would see GCC impacting over 40,000 youth through the rollout of our App. A massive thank you goes to Promise, Lefa and Mbhoni who have been leading the training, while working through nation wide power outages and record breaking temperatures.

Want to stay informed about conservation issues and what
you can do to make an impact?