Watch our Brand Film and Support a Future Ranger to Celebrate World Rhino Day
On the 22nd September, we celebrated World Rhino Day! There is no better time to invest in the future of those who will determine the fate of this iconic species.
Since 2017, the Future Rangers Program has reached over 2,000 local youths every week, exposing children to nature, facilitating wildlife experiences, developing skills, and connecting tomorrow's leaders to employment opportunities. Along with weekly lessons, we partner with 12 local conservation organizations to connect students to role models, field trips, leadership camps, and internships. Our entire program is tracked through GCC's Educational App, giving students the ability to track their learning progress and build up a conservation CV. This month, we're on a mission to fund 200 students in the Future Rangers Program.
$20 a month supports a student's learning journey towards a conservation career; which may include activities like field trips, leadership camps, safari experiences, and other learning opportunities.
Join us on our mission to create generational change. Donate here.
*findings from GCC's baseline survey in 2017, interviewing 550 students across 8 schools bordering the southern half of Kruger.
GCC Welcomes New Board Members – Chandni Hirani and Stephanie Welsh
We are so excited to announce our two new board members – Chandni Hirani and Stephanie Welsh!
Born and raised in Kenya, Chandni Hirani has been working in the startup and venture capital ecosystems in Africa for over 10 years. She has run a solar energy company in Kenya as well as having led venture capital investments across industries including ClimateTech and EdTech across Africa. She is passionate about education, youth development and conservation. Chandni is the author of a book titled "Supporting Adult Learners through Games and Interactive Teaching: A Practical Guide" published by Routledge (Taylor & Francis). She is a graduate of both the University of Manchester and the London School of Economics.
Stephanie Welsh has spent most of her career at the intersection of nonprofits, education, and the environment. She strategically collaborates with others to build and grow visions related to providing kids with access to inspiring education experiences. After practicing law for ten years, Steph was the founding Executive Director of an educational non-profit in Colorado. During her tenure, over 1 million kids benefitted from access to environmentally friendly, hands-on learning experiences that helped them develop creativity, problem-solving, and critical-thinking skills needed to tackle real world challenges. Currently, Steph is the Executive Director for the Ancient Art Archive, a global non-profit organization dedicated to preserving rock art and engaging kids and grown-ups alike with stories rock art tells us about our common humanity. Steph also provides consulting services to help non-profit organizations unlock their potential and maximize their impact. In addition to serving on GCC's Board, Steph serves on the boards of the Colorado Fourteeners Initiative and the Logan School for Creative Learning. She loves learning, exploring, and connecting with people, and her favorite ways to engage in those passions are through her work, international travel, hiking, skiing, and the arts.
Welcome Chandni and Steph! We are so honored to have you both on our team.
Rhino Man at Jackson Wild Summit
On the 25th September, RHINO MAN was pre-screened at the Jackson Wild Media Summit, Wyoming! In attendance from the GCC crew were John Jurko and Matt Lindenberg, joined by conservation legends Leitah Mkabela (Black Mambas), Orlat Ndlovu (Timbavati Private Nature Reserve), Ruben de Kock (Lead Ranger) and Marianne de Kock (retired trainer) to be a voice for rangers on the front lines. The screening was well attended, and kicked off a week of great conversations.
Thanks to some incredible friends, the RHINO MAN team was invited for a field trip to visit the world famous Yellowstone National Park, where wolves, bison and grizzly bears were spotted. The chance for the team to experience North American megafauna was impactful, and the team was also able to share stories and experiences with local park rangers from Wyoming.
Over 450 films entered the competition in 2023, with RHINO MAN chosen as a finalist in two categories – Conservation and People & Nature. Unfortunately, the film did not win any awards at the festival. We were honored though to be in the same categories as National Geographic, Netflix, Amazon and Silverback Productions, helping us build a strong network of friends in both the conservation and film industries.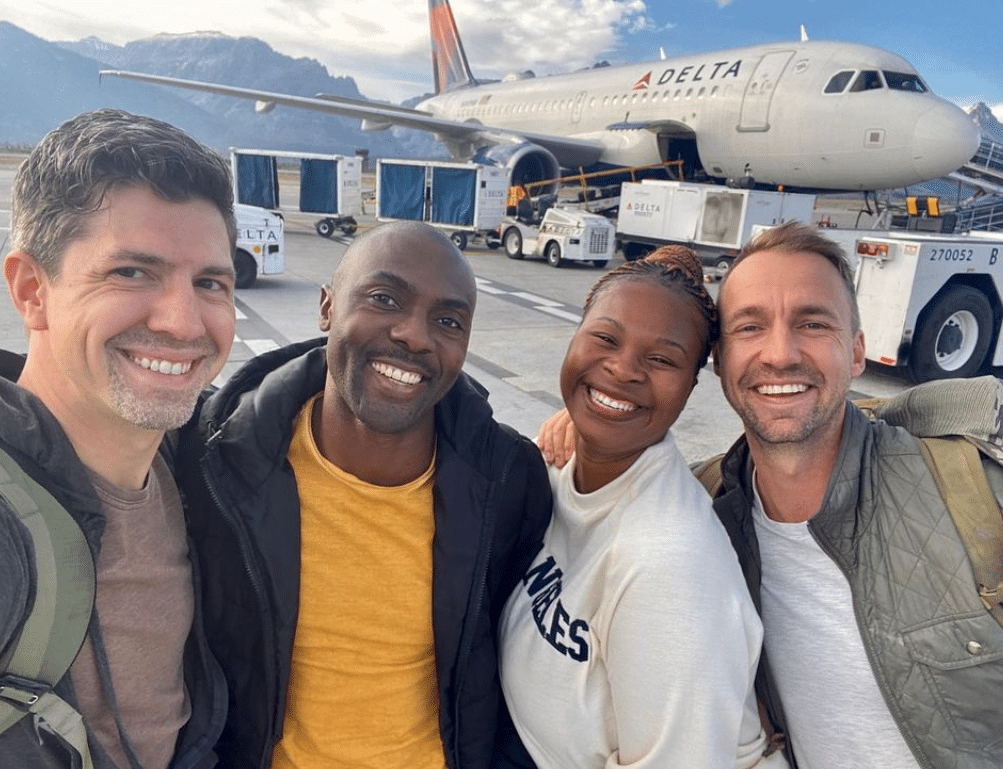 We would love to extend our heartfelt thanks to the sponsors who brought the RHINO MAN team to Jackson this year, to share the stories and value of rangers at such a prestigious festival.
Careers in Conservation 2023: Now on its Third Year!
On the 15th September, GCC hosted our third annual Careers in Conservation Expo and Fun Day at Sokisi High School. The event connected over 400 standout students from eight high schools to conservation role models and mentors. The day started off with a keynote address by Rest Kanju from Ndalo Inclusive, focusing on the power of education and mentorship. We then had a K9 unit demonstration, followed by a 2 hour session where learners could meet and interact with conservation professionals from the greater Kruger area. The day concluded with a wonderful lunch, live performance by local musician Hisa wa Tiko and a color run to solidify the unity built amongst students.
Thank you so much to our conservation and event partners from Timbavati Private Nature Reserve, Timbavati Foundation, Elite Funeral Services, Thornybush Community, Black Mambas, GKEPF, MTPA, SANParks, GCG, Indalo Inclusive, Singita Lodge, Sabi Sands, Kings Camp, SPAR Hoedspruit, SPAR Acornhoek Mall, PicknPay Hoedspruit, Roots Butchery Acornhoek Mall, Manzi Hoedspruit, NJ MORE Field guide college, Conservation South Africa, Department of Social Development (Islington youth center) and Butiza Sound for supporting us in making this event happen!

Want to stay informed about conservation issues and what
you can do to make an impact?